The 2020 University of Toronto Department of Family and Community Medicine Conference
|
All day
Details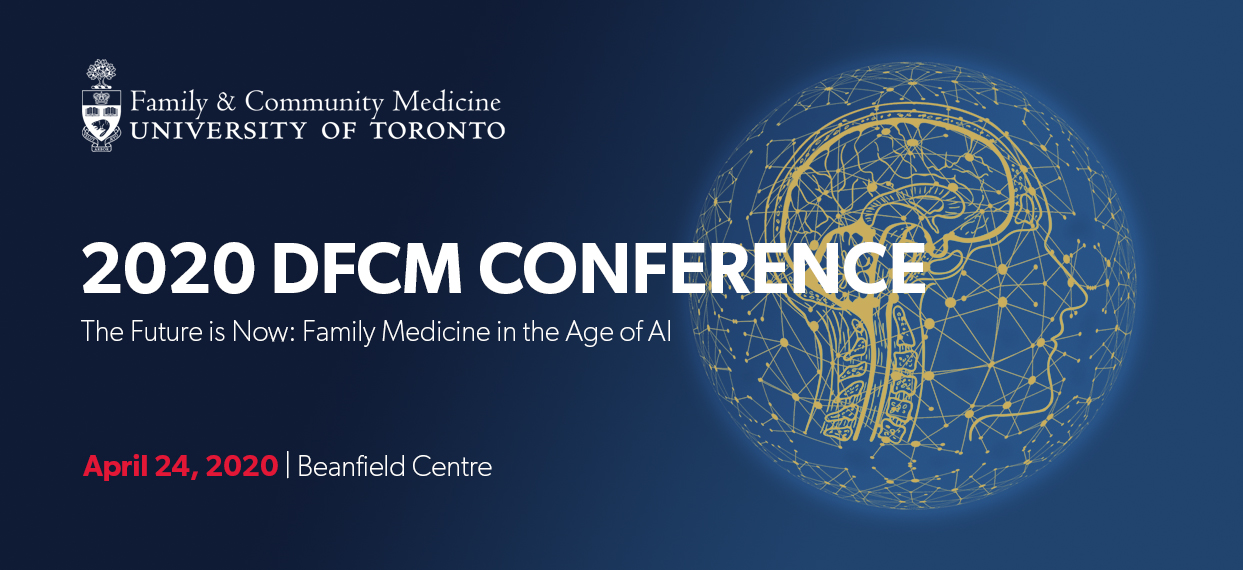 The Future is Now: Family Medicine in the Age of AI (Artificial Intelligence)
We are pleased to announce that the 2020 University of Toronto Department of Family and Community Medicine (DFCM) Conference will take place on April 24, 2020, at the Beanfield Centre.
The 2020 theme will focus on the relationship and potential impact of artificial intelligence on the discipline of family medicine. What do primary health care professionals need to know?
This year's event features 22 hands-on and informative workshops, and many posters and oral presentations encompassing clinical care, teaching, education, scholarship, research, quality innovation, global health, faculty development, leadership, equity, diversity and more.
Registration for our one-day conference is open to all faculty, residents, undergraduate and graduate students, staff, alumni and local and international friends of the University of Toronto Department of Family and Community Medicine.
Join your colleagues from Toronto, Canada, and from around the world, as we learn about the work we are all doing to advance family medicine.
All attendees and presenters must purchase their tickets through Eventbrite. Please register before March 27, 2020 to reserve your spot.
*Please review the list of workshops below as you will be required to select your workshops on Eventbrite when purchasing your ticket.
Workshops
Workshops are to be selected at registration on our Eventbrite ticket page. Please ensure that you select the correct workshop on Eventbrite for all three sessions. Please download the links below to view the workshop descriptions.
Registration Fee for This Year's Conference
The DFCM Event Committee works hard to ensure that our attendees are treated to a day of knowledge in an environment that is conducive to learning and the sharing of pertinent ideas.

Every year when we plan this event, we value your contributions to DFCM and we take your comments into consideration. We revisit workshops, include new topics and tailor the conference's format from the feedback we have received.

Organizing events of this kind come at a cost for DFCM and these expenses accrue every year. This year again, we will be charging a nominal fee to attendees and presenters to ensure the partial recovery of costs incurred for this event.

The registration fees will be structured as follows:
Faculty Members: $50.00 + tax
Alumni: $50.00 + tax
Non-Faculty: $100.00 + tax
Learners (residents and MD students) / Administrative Staff: $20.00 + tax
Registration fees will be used solely to offset the cost of logistics which include catering, conference rooms, and AV.
We encourage you to email us at dfcm.conference@utoronto.ca should you have any concerns or questions.
Agenda
Start
end
event
presenter
7:30
8:00
Registration and Breakfast
8:00
8:30

Welcome and Greetings

Land Acknowledgement

Welcome
Launch of the University of Toronto Family Medicine Report #2

Dr. Azadeh Moaveni & Dr. Viola Antao

Dr. Suzanne Shoush

Chair

8:30
9:15

Walter Rosser Lecture

Q&A Session

Chair - Intro

Dr. Ross Upshur - Keynote

9:15
9:45
Poster Viewing & Break
9:45
10:45
AM Session 1 Workshops
10:45
11:00
Break
11:00
12:00
AM Sesson 2 Workshops
12:00
1:00
Lunch & Poster Viewing
1:00
2:00

Earl Dunn Lecture

Panel and Q&A Session

Dr. Karen Tu
2:00
2:45

DFCM Research Presentations

Q&A Session

Dr. Eva Grunfeld

Dr. Peter Selby

Dr. Liisa Jaakkamainen

2:45
3:00
Break
3:00
4:00
PM Session Workshops
Onsite parking will be available for attendees.

Please contact us at dfcm.conference@utoronto.ca, should you have any questions.
The official hashtag for the conference is #DFCM2020.
2020-04-24 04:00:00 2020-04-24 04:00:00 UTC The 2020 University of Toronto Department of Family and Community Medicine Conference The Future is Now: Family Medicine in the Age of AI (Artificial Intelligence)We are pleased to announce that the 2020 University of Toronto Department of Family and Community Medicine (DFCM) Conference will take place on April 24, 2020, at the Beanfield Centre.The 2020 theme will focus on the relationship and potential impact of artificial intelligence on the discipline of family medicine. What do primary health care professionals need to know?This year's event features 22 hands-on and informative workshops, and many posters and oral presentations encompassing clinical care, teaching, education, scholarship, research, quality innovation, global health, faculty development, leadership, equity, diversity and more. Registration for our one-day conference is open to all faculty, residents, undergraduate and graduate students, staff, alumni and local and international friends of the University of Toronto Department of Family and Community Medicine. Join your colleagues from Toronto, Canada, and from around the world, as we learn about the work we are all doing to advance family medicine.All attendees and presenters must purchase their tickets through Eventbrite. Please register before March 27, 2020 to reserve your spot. *Please review the list of workshops below as you will be required to select your workshops on Eventbrite when purchasing your ticket.WorkshopsWorkshops are to be selected at registration on our Eventbrite ticket page. Please ensure that you select the correct workshop on Eventbrite for all three sessions. Please download the links below to view the workshop descriptions.AM Session 1 (9:45 - 10:45 a.m.)AM Session 2 (11:00 a.m. - 12:00 p.m.)PM Session (3:00 - 4:00 p.m.)Registration Fee for This Year's ConferenceThe DFCM Event Committee works hard to ensure that our attendees are treated to a day of knowledge in an environment that is conducive to learning and the sharing of pertinent ideas. Every year when we plan this event, we value your contributions to DFCM and we take your comments into consideration. We revisit workshops, include new topics and tailor the conference's format from the feedback we have received.Organizing events of this kind come at a cost for DFCM and these expenses accrue every year. This year again, we will be charging a nominal fee to attendees and presenters to ensure the partial recovery of costs incurred for this event. The registration fees will be structured as follows: Faculty Members: $50.00 + taxAlumni: $50.00 + taxNon-Faculty: $100.00 + taxLearners (residents and MD students) / Administrative Staff: $20.00 + taxRegistration fees will be used solely to offset the cost of logistics which include catering, conference rooms, and AV. We encourage you to email us at dfcm.conference@utoronto.ca should you have any concerns or questions. var exampleCallback = function() { console.log('Order complete!'); }; window.EBWidgets.createWidget({ // Required widgetType: 'checkout', eventId: '92757619537', iframeContainerId: 'eventbrite-widget-container-92757619537', // Optional iframeContainerHeight: 425, // Widget height in pixels. Defaults to a minimum of 425px if not provided onOrderComplete: exampleCallback // Method called when an order has successfully completed }); AgendaStartendeventpresenter7:308:00Registration and Breakfast 8:008:30Welcome and GreetingsLand AcknowledgementWelcomeLaunch of the University of Toronto Family Medicine Report #2Dr. Azadeh Moaveni & Dr. Viola AntaoDr. Suzanne ShoushChair 8:309:15Walter Rosser LectureQ&A SessionChair - IntroDr. Ross Upshur - Keynote9:159:45Poster Viewing & Break 9:4510:45AM Session 1 Workshops 10:4511:00Break 11:0012:00AM Sesson 2 Workshops 12:001:00Lunch & Poster Viewing 1:002:00Earl Dunn LecturePanel and Q&A SessionDr. Karen Tu2:002:45DFCM Research PresentationsQ&A SessionDr. Eva GrunfeldDr. Peter SelbyDr. Liisa Jaakkamainen2:453:00Break 3:004:00PM Session Workshops Onsite parking will be available for attendees. Please contact us at dfcm.conference@utoronto.ca, should you have any questions. The official hashtag for the conference is #DFCM2020. 105 Princes' Blvd - Beanfield Centre dfcm.conference@utoronto.ca